On a recent sunny afternoon at the University of Toronto's back campus fields, Lua Mondor took her place in front of the cameras.
With music by Young Tribe blaring on the speakers, the metal cones on her jingle dress – made from the lids of chewing tobacco cans – chimed as she began her performance for the sixth annual Honouring Our Students Pow Wow.
In her second year of art history in U of T's Faculty of Arts & Science, Mondor says she is the first in her immediate family to take part in powwow dancing – part of an effort to connect more deeply with her heritage.
"My mom grew up in the foster care system, so we don't know where she came from – we still don't know her exact reserve," Mondor says.
She adds that she began dancing during the pandemic and has already inspired her younger sibling to follow in her footsteps.
"We jam out to powwow music in my room."
Mondor is one of the 10 dancers who was filmed in-person for this year's Honouring Our Students Pow Wow event, which is being presented in a hybrid format and is hosted by the Indigenous Studies Students' Union (ISSU).
With the help of U of T's Faculty of Kinesiology & Physical Education, the ISSU recently filmed dancers on the St. George campus. The video will launch on May 20 at 12 p.m. ET on the ISSU's YouTube channel. The clips will be edited together with community submissions, an opening prayer and more.
ISSU president Teagan de Laronde, who is specializing in Indigenous studies and minoring in political science and religion, and ISSU co-ordinator Anna Feredounnia-Meawasige, were both excited to hold a portion of the powwow in-person.
"It's nice to have that sense of community again and kind of feel like things are getting back to that," says Feredounnia-Meawasige, who is specializing in Indigenous and environmental studies and minoring in environmental ethics at U of T.
Although the celebration will be presented virtually, Feredounnia-Meawasige wants to make sure the event embodies the "essence" of an in-person powwow.
"One big thing is that we usually try to have an opening prayer, which is standard protocol whether you're in-person or online. We go through a list of protocols so that usually signifies that this is a special and cultural event," she explains.
As for Mondor, she excitedly shares why her regalia – including a black jingle dress – holds so much meaning.
"Our dresses have spirits in them," she says. "My dress is a healing dress, it came about in the Spanish flu. An Elder had a dream about this dress because there was a lot of sick people in their village."
There are variations of the story but, as Mondor tells it, after the Elder's dream, the women in the village sewed the jingle dress and it eventually healed a sick girl.
Mondor says that dancing in powwows has helped her reclaim her roots. To honour her ancestors, she introduced herself in Anishinaabemowin.
"It's a way to not only introduce yourself to people, but the space around you and your ancestors because we weren't allowed to speak the language for so many years."
When the ISSU posted a callout for powwow dancers on social media, Sara Pitawanakwat immediately asked her nine-year-old daughter Emilee Ann if she wanted to participate.
"She hasn't danced at a powwow since the pandemic," says Pitawanakwat, who is originally from Wiikwemkoong Unceded Territory on Manitoulin Island. "Being dressed in her regalia brings out her spirit as a child and it makes her happy."
Pitawanakwat sewed her daughter's regalia, noting she was just 15 months old when she danced her first powwow with her cousin. "She was so effortless and danced as if she knew how to dance already," Pitawanakwat says. "It was so beautiful. It was in that moment; I knew I had to start making her regalia."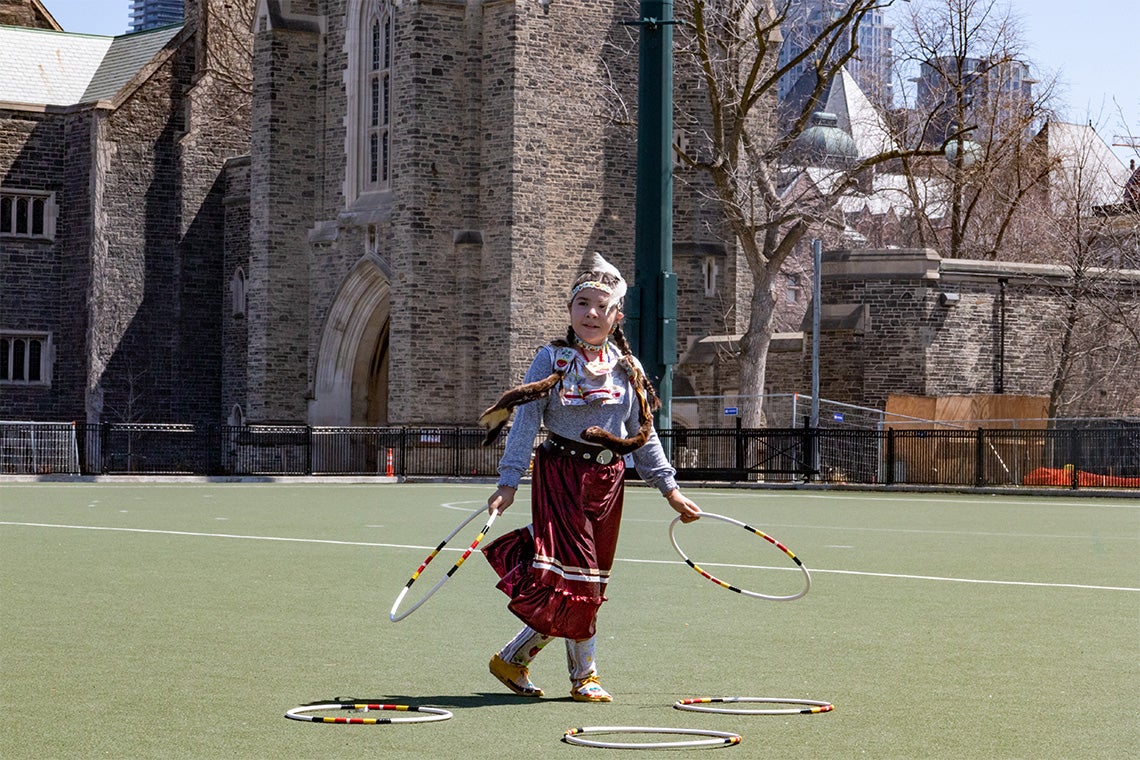 Nine-year-old Emilee Ann Pitawanakwat wears regalia that was sewn by her mother (photo by David Lee)
Not only a talented dancer, Emilee Ann is also an award-winning co-director of a Canadian music video thanks to a chance encounter with Toronto recording artist Andrea Ramolo at an Every Child Matters march last year – a meeting that led to a close bond and an opportunity for collaboration.
"She approached us and asked if Emilee Ann would be willing to star in her music video," says Pitawanakwat, adding that Ramolo and Emilee Ann then had several brainstorming sessions about what the artist's song "Free" meant to her. She co-directed and starred in the music video.
In March, the music video won a Canadian Independent Music Video Award in the folk category.
"I'm so proud of her accomplishments and where dance has taken her," said Pitawanakwat. "As long as she loves it… she's performed at so many places, it's opened a lot of doors for her."
As for de Laronde, this year's powwow holds special meaning since she is graduating this year. She says the ISSU events are her way of "saying goodbye to the university."
Feredounnia-Meawasige, meanwhile, plans to do her master's degree at U of T in ecology and evolutionary biology – and hopes that she can participate in the powwow planning next year and that it will return to a fully in-person event.
"I really enjoy having my community around me, it makes me feel better and it makes me happier," she says.